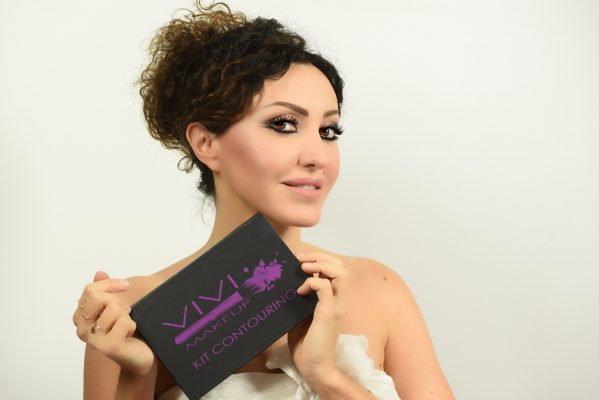 🌈 Makeup Cosmetics – ecommerce www.vivimakeup.com​🌈


🌱Skin Care Formula (vitamins and anti-age)​

🐰 No Animal Testing​

🇮🇹Made in Italy​

🌿Vegan Friendly​


🎨A brand new and innovative make up line created by the Italian artist Viviana Ramassotto​👩‍🎨


🌍 🌎 🌏 Made in Italy Top of Quality, professional cosmetics exported all over the world.​🇮🇹


Loose and compact powder​
Eyeshadows/Face powder/Blush/Star Powder/Loose Pigments​

The main feature of our powders is the quality of the raw materials. Opaque, adhesive, flowing, full of pigments and soft. Available in tens of gradations.​

The Star Powder is a "must have" of Vivi makeup: suitable for brides, or for any magic starry night!


Foundation-Fluid/Mousse/Stick

-Fluid: Moisturizing thanks to its vitamin-E based formula. Medium opaque, it gives you a shining and light complexion.​

-Matte Mousse: Buttery texture, ultra matt suitable for oily skins. It tightens facial pores giving a youthful look and a silky skin. It does not need any facial powder. With vitamin – E and beeswax.​

-Stick: Enriched with Marigold and Aloe, it gives a "photoshop" effect: with a light touch, it covers all the skin flaws, and tapping it on the areas that need to be hidden, it creates an amazing camouflage. Perfect for contouring, inserting the tone and the undertone. It can also fully cover the tattoos.​

-Mini matt Stick: with vitamin E. Opaque, light on the skin, absorbs sebum. Ideal for summer, and for mixed and oily skins.​

Mascara- Extra Black and Long-lasting​
Mascara with creamy texture enriched with natural waxes. Extra black long-lasting pigments. Eyebrush with a lengthening and separating effect on the eyelashes.​

Eyebrows Fixer Mascara​
It looks like a mascara, but it is transparent. It nourishes, polishes and fixates the natural hair of the eyebrows, for an elegant result.​


Eyeliner-Cake & Peel Off​

-In the "Cake" type, it can be blended: it is suggested for the experienced make up users. Extra black, it intensifies the eye zone, providing a deep glance.​

-"Peel Off" is a reweux of the 60s: it draws an intense black line with a vinyl effect. To remove it, you can just lift one end. A "must have" for the most creative looks: it can also be used as a stencil.​

Pencils-Highlighting/Kajal/Lips/Eyeshadow/Eyes/Liner 24h​

Eye & Lips: blendable, full of pigments, enriched with vitamin E.​

-Hilighting : Buttery, blendable, full of pigments They are both kajals and illuminating pencils.​

-Black Pencil 24 h: it cannot be blended, long-lasting liner effect for sensitive eyes.​

-Eyebrows Pencil: Water-proof, mealy and incisive. The colour is pas-pat-tout: ideal for fair hair, but stratifying it you can use it for brown and black hair.​


Matt Lipsticks​-Lip dyeing​
-For wonderful nuances, a real "must have" of our line. Suitable to all ages, perfect for lips correction and small wrinkles on the lip contour. They give an opaque, adhesive and extra-resistant effect. They do not require the contour pencil. With vitamins. The lipstick can be softened with lip balm or bee venom.

Lips emollient –Bee venom balm​
Precious emollient treatment, anti-wrinkle and volumizing. It provides a fabulous fresh and full effect.​
Italian Vivi Style 🤩